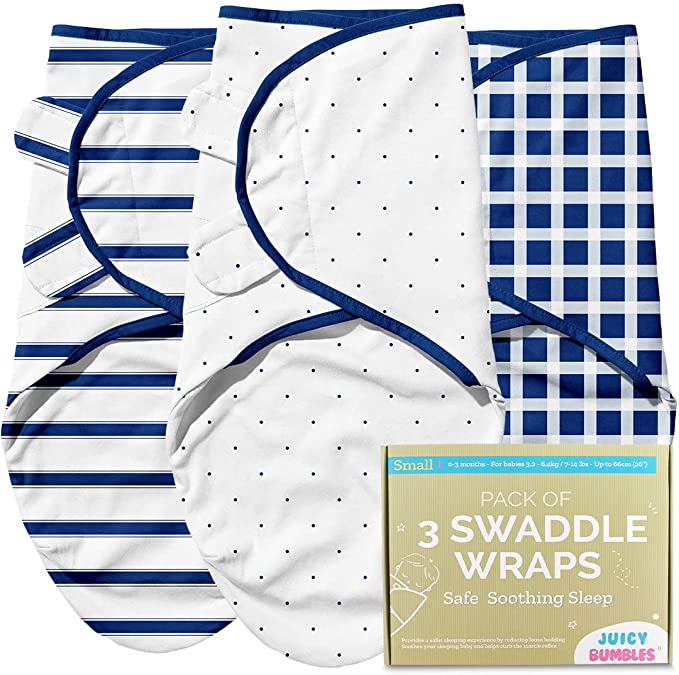 ---
Share this Product
Juicy Bumbles
Baby Swaddle Wrap - Pack of 3 Swaddle Blankets - 100% Cotton
SWADDLE BLANKET BY JUICY BUMBLES®. The Juicy Bumbles swaddle wrap recreates a womb like feeling that helps your baby to fall sleep, and stay asleep, by preventing the startle reflex.

SAFELY SWADDLE YOU BABY TO SLEEP. Swaddle blankets provide a SAFE sleep for your baby and considerably reduce the risk of SIDS. The swaddle wraps baby snuggly but without putting any pressure on their hips.

EASY TO USE. The Juicy Bumbles swaddles are easier to use than classic swaddles: our unique swaddle blankets consist of a pocket for the legs and two wings that safely wrap around your baby's arms. The size is easily adjustable with our convenient Velcro fastening system.

WARM AND LIGHTWEIGHT. The Juicy Bumbles swaddle wraps are 220GSM for a soft and warm sleep. Made of 100% soft Jersey cotton.

AVAILABLE IN 2 SIZES. Our set of three swaddles are available in two sizes: Small for new-borns up to 3 months (3-6 Kg or 7-14lbs) and Large for 3 to 6 month old babies (6.5-8 kg or 14-18lbs).
Snugly wrap your baby in our Juicy Bumbles® swaddle blanket to provide them with warmth and security. Our adjustable swaddle keeps your baby from being disturbed by the startle reflex. Ideal for soothing newborns by imitating the cosiness of the womb. Swaddles are also great for soothing unsettled babies or babies suffering from colic.

Safer, Longer Sleep

Swaddling your baby considerably reduces the risk of SIDS by preventing them from covering their face with lose bedding. It provides warmth and comfort and will help your newborn baby to sleep better, and for longer, by stopping him or her from startling themself awake with random arm movements.

How to Use the Swaddle Blanket

Our swaddle blankets are fully adjustable so you can keep using them as baby grows. Consisting of two wings that fasten with a convenient Velcro system, they are surprisingly simple to use - even on the most fidgety of babies!

Place your baby inside the "leg pocket" and level their shoulders with the top of the swaddle. Wrap him or her snugly with one wing and then the other.

Always place babies on their backs to sleep.
Stop using the swaddle as soon as baby can roll over onto their front.

Specifications

• Set of 3 Juicy Bumbles® swaddle blankets
• Made from 100% Jersey cotton
• 180 GSM
• Wings fasten and readjust securely with Velcro attachment
• Available in two sizes:
• Small: 0-3 months - 3 to 6kg or 7 to 14 lbs - 50x75cm
• Large: 3-6 months - 6 to 9kg or 14 to 20 lbs - 60x80cm

Box Contains

3x Juicy Bumbles® Swaddle Blankets
Our products are shipped from our various warehouses across Europe, delivery takes 2-3 business days. We offer free delivery to the UK.
Delivery is free for orders above £19 to France, Germany, Italy and Spain. We charge £3.99 for orders below £19.
Delivery to other European countries is £4.99. We offer delivery to the United States for £3.99.
---
More from this collection